The Complete Guide To Health.com/join-our-community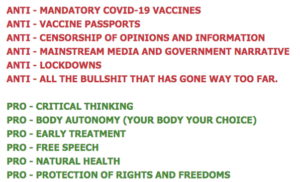 Those who continue to promote/mandate COVID "vaccines"  are denying the science and committing CRIMES AGAINST HUMANITY
​
Irrefutable science shows that the COVID 19 vaccine is NOT safe.
The "safe and effective" false propaganda, put out by public officials who now are continuing to push this vaccine, is a clear breach of duty. and a crime against humanity
Many people have breached that duty of care and are carrying on regardless of the now-confirmed dangers associated with COVID 19 injections.
The term "vaccine" was changed recently to incorporate this illegal, unlawful medical experiment to facilitate usage of mRNA technology that is demonstrably NOT a vaccine.
The long term lethality of this biological weapon is not as yet realized due to the debilitating effects it has on the immune system, causing Acquired Immune Deficiency Syndrome (AIDS).
​
Some of these risks are blood clotting, myocarditis, pericarditis, thrombosis, thrombocytopenia, anaphylaxis, Bell's palsy, Guillain-Barre, cancer including deaths, etc.
​